Latest News
THT's Brahmotsavam Online Competitions
THT's Brahmotsavam Online Competitions(8/3-8/7) - Day 5
=======
On the occasion of the THT's Brahmotsavam, we are conducting online competition for children/adults on various creative aspects of Hindu practices/Sanatana Dharma. Thank you for all the enthusiastic participation from kids and adults in this online competition. We thank everyone for your participation as you are helping us(temple) to help you.
During the Covid situation, it is important we can engage our kids and also let them know about our Sanatana Dharma and that is the main purpose of this competition. Also many ladies have registered for Rangoli and other competitions to get a break from regular chores. We have extended deadline to submit 3D modeling and Rangoli entries to one more day(due to weather). We are looking forward to seeing all the great work done by the community, to participate in this competition.
Please see below for topics on Elocution and Essay Writing. Please also see the link to submit fifth(last) day registrations and payment link as well.
*Topics for Elocution* - "Importance of building traditional temple"
*Topics for Essay Writing* - "How temple is useful for next generation Indians"
• Please click here to submit registered entries of Day 5 of competition(Essay Writing). Last date to submit is August 8th 11pm EST.
*Day5 Submission Link: * https://docs.google.com/forms/d/e/1FAIpQLScqrnVDokxLCI-eM9TzUgKUm43GX7JUsgmtsc8X6YzcmMQjyw/viewform
• Please click here to submit registered entries of Day 4 of competition(Prepared Elocution). Last date to submit is August 7th 11pm EST.
*Day4 Submission Link: *
https://docs.google.com/forms/d/e/1FAIpQLScifC4iDK1aKtNrGsOnKCFPi0S-YCtlz0egiLJlXFNK7objiw/viewform
• Please click here to submit registered entries of Day 3 of competition(3D Modeling/Rangoli). Last date to submit is August 7th 11pm EST.*Deadline Extended*
*Day3 Submission Link: *
https://docs.google.com/forms/d/e/1FAIpQLSdczEgSEnDcjLgL-hUj0SYORUPy3el17JbK-2Blmj8n3m96BA/viewform
• Please click here for Payment link for registered participants. Please make the payments as soon as entries are submitted, as we are going to annouce Day1,Day2,Day3 competition winners on Sunday(last day of Brahmotsavam)
Payment Link: https://www.triadhindutemple.com/tht's-brahmotsavam-online-competitions-registration-form.html?eid=61
The categories and age group along with the participation fee is described below. Participants will be provided with Certificates and Winners in each category will be awarded. For more details, please see below
Facebook event: https://facebook.com/events/s/thts-brahmotsavam-online-compe/973684806423153/?ti=icl
Event details: https://www.triadhindutemple.com/event/upcoming/tht's-brahmotsavam-online-competitions.html?eid=61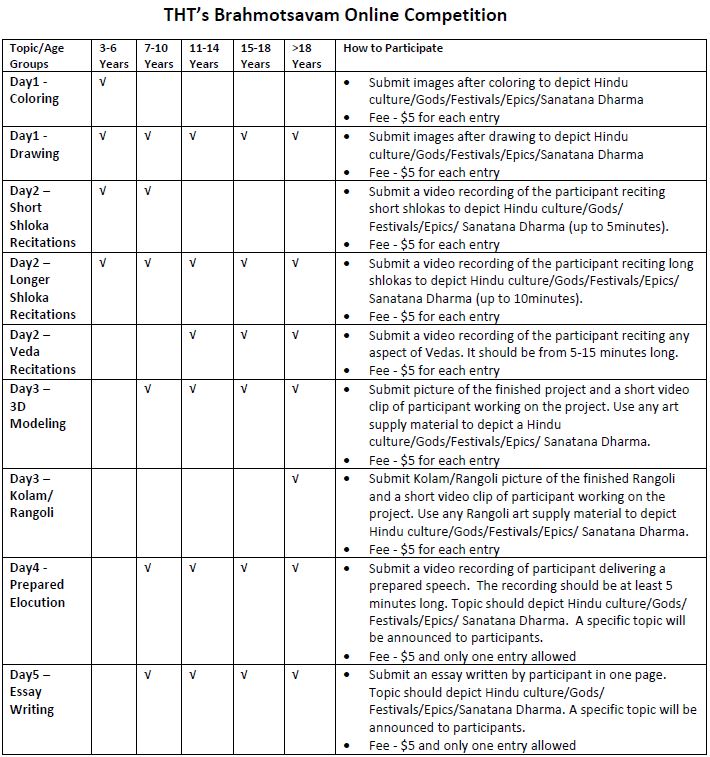 Temple Hours

Monday - Friday

Saturday - Sunday

Please use caution while visiting the temple due to active construction site

Donate Online