Latest News
Temple Priests
HSNC/THT achieved a major milestone in 2012 by hiring an in-house priest to not only perform daily Pujas for the deities and conduct major religious events, but also to cater to individual community members' needs so that all traditional Hindu rites and rituals are performed.
In October 2020, we got our second priest. With two priests THT will conduct all three sampradayas, pujas and rituals, get ready for our move to authentic Agama Shastra Triad Hindu Temple and meet growing community priest service needs.
Our THT Priests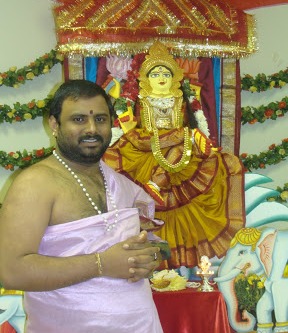 Mahadacharya Sri. Muralikrishna Sarma Bhuvanagiri comes from a traditional Vedic family and is a native of Hyderabad, AP, India. He is fluent in his native language, Telugu, Sanskrit, Hindi and English and can understand a few other Indian languages. Sri. Sarmaaji is married to Smt. Lakshmi Prasanna and has two daughters.
Sri. Sarmaaji can perform all Pujas, Havans, Shanti Pariharas and Srardhadhi Karmas at your home. A detailed list of Shodasha samskaras for Community from pre-birth to funeral rites services he can perform are listed in the temple website.
His Temple related work experiences to include: Devalaya Samprokshanam; Nitya Shodasopachara Puja; Abhishekams, Alankarams, Archanas; Aalya utsava; Temple Festivals like Brahmotsavam, Kalyanotsavam. Devalaya Prathistapanas; Devalaya Kumbhabishekams; all homams to Devatas: Chandi homam, Sri Sudarshana Homam and various other Yagnams normally done only in Temples.
He can teach Vedas, Slokas, Sahasranama, Bhagavatgita, and has done upanyasams. He was conducting a Program in BHAKTI television by name NOMULUVRATALU for the last 2 years. This was nominated for the television Nandi awards. His hobbies are Devotional Discourses, Upanyasam, Singing Bhajans, Satsang & Puranapatanam (reading and storytelling from Purnas and Bhagavatam. He is also well versed in Vastu Sastras and Astrology.
Pandit Sri. Damodara Bhattar comes from a traditional priest family, who are serving from generation to generation. His father Priest Sri. Ramachandra Bhattar is a head priest in SLN Temple, Youngstown OH since 1993. He has previously worked in Venkateswara Temple, Pittsburgh.
Bhattar worked as a priest in Hindu Temple, Omaha NE for 14 years leading many events as a main priest for 2013 Maharudra, 2015 Maha Kumbabishekam and 2018 Maha Sudarshana Homam. Pandit Bhattar specializes in Ashtapada alankaram for all Uthsava Moorthis and different alankarams for all deities. He is fondly referred by devotees and Temple management as "Alankara" Bhattar
He has been part of various major temple events like Koti Kumkum Archana in Delaware Sri Mahalakshmi Temple in 2003. Bhattar was part of SLN temple Jeernodhara, PUNAR PRANAPRATHISTA and Kumbabhishekam in OH 2007 and UTSAVAMURTHY PRANAPRATHISTA in 2008. He was a part of PRANAPRATHISTA of Lord Radha Krishna & Maha Lakshmi of Woodland, TX in 2012.
Pandit Bhattar obtained his Rig Veda, Kavya & Tharka education at PURNA PRAGNA VIDYA PEETA, Bangalore, India. He studied PANCHARATHRA AGAMA Prayogam & YajurVeda, from his father. Pandit Bhattar performs all rituals: Grihapravesham, Satyanarayana Pooja, South & North Indian Wedding ceremony, Dhanalakshmikubera Pooja, Navagraha Shanti/all Shanti Homam, Sudarshana Homam, Mrityunjaya Homam, Shodasha samskaras(like naming ceremony etc), Upanayanam, Shasti purti, and all other poojas. He can perform all the priest services in listed in our temple website at your home.
Bhattar is fluent in Telugu, English, Hindi, Kannada, and Tamil. He is married to Smt. Krishna Krupa and has been blessed with a girl Vaishnavi D Bhattar.
We encourage every family in our community to avail priest services for a special day of your life like Wedding Anniversary, Birthday, Ayusha Homam, Saraswathi Pooja, Satyanarayana Pooja, Vara Lakshmi Pooja etc. and receive blessings from our priests.
To inquire about priest services in and outside the temple, please email Priest Services.
Temple Hours

Monday - Friday

Saturday - Sunday




If you have special needs to visit Temple, you can pay a restricted visit after booking a prior appointment through Calendly and following COVID-19 safety guidelines.

Donate Online